Last week, I sat down with barber industry veteran Mike McBunch to discuss his history with the National Association of Barber Boards of America, his love for Intrinsics (shout out to the Neck Strips!), and the reemergence of barbering practices in America.
It's a bird, it's a plane, it's the Super-barber!
Originally a razor barber by trade, Mississippi-native Mike McBunch is going on his 40th year of being a master barber. He was president of NABBA in 2012 and is currently serving as president of the Barber Board of Mississippi for his fourth term, which is a position that's appointed by the governor and approved by the Senate. And if you didn't think Mike was superhuman already, he has also owned and operated The Hair Co. in Tupelo, MS since 1991.
While explaining the unique layout of his 3-station shop to me, he was proud, but humble, in explaining that he sees his clients as friends and aims to provide the best care possible to each and every one of them. He maintains an intimate environment in his shop--servicing by appointment only, playing easy jazz throughout the day, and offering extra services like hot towels and eyebrow shaping.
When Mike Met Dave (And Our Neck Strips)
When speaking on some of his favorite barbering products, Mike could not help but to rave about the Intrinsics Neck Strips. Being a prominent member on the NABBA board and in the barbering community, Mike has always used neck strips in his practice and stressed the extreme importance of sanitary practices in shops; he stated that having a neck strip between the cape and the client was absolutely fundamental in maintaining a sterile environment for both the barber and customer.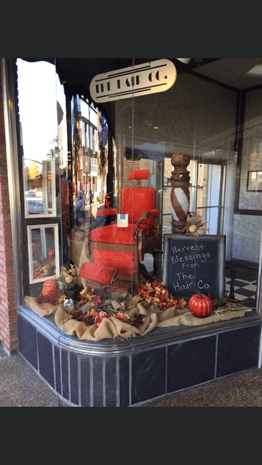 After meeting our Sales Manager Dave Albers in 2001, Mike tried the Intrinsics Neck Strips and said he never looked back to his old brand. When discussing the Intrinsics Neck Strips with me, Mike said the first thing he noticed was their softness. But his favorite thing about the strips is that they expand to fit all neck sizes without breakage, due to their high elasticity. Mike even joked with me that he was sitting near 4 large cases of our Neck Strips as we spoke!
A Rise in Self-Care
One of the big things Mike and I talked about was the rise in men's self care trends. He says that nowadays, men are less shy about self care practices like facials and hair coloring. He was clear on the fact that men want and, frankly, deserve to be pampered, just like their female counterparts! Mike informed me that barbering is making a huge reappearance in the job market and there has been a rise in barbering schools all over the country.
It's no secret that feeling confident about your appearance can make a huge difference in your world. One of my favorite things Mike said was, as a barber his "main goal is to take [his] clients out of the negative world they may face every day, and make them look and feel better before placing them back into that negative world."
Barber Brotherhood
While wrapping up our conversation, Mike and I spoke on the barbering community as being a sacred brotherhood. He said that all gaps bridge when barbers get together--no matter the race, gender, or any other differences, barbers will always remain brothers. Mike expressed his extreme pride in being a master barber and spoke of it as his true calling. A sentiment that echoes amongst barbers all over the world.
Topics: Spotlight On, Barbershop