Consumers, especially those precious millennials, are spending increasing amounts of time and money on wellness experiences, driving overall growth in the spa and salon industry. Despite this, many spas and salons are missing an opportunity to translate this into increased retail sales.
Spas and salons are uniquely poised to drive this growth by virtue of their position as wellness experts, helping clients cut through the white noise to find real solutions to their problems. To help you maximize your revenue potential, we've put together 9 fail-proof ways to boost your retail sales:

1. Samples
Providing product samples is one of the easiest, most effective steps you can take to increase total retail sales in your spa or salon. One study shows that offering samples not only increases sales in the short term, but that it also impacts sales long after they've been given out. The same research found that in-store product sample increases total category sales, not just for the products being sampled. This means that samples of one of a skin care product can actually drive sales of other skin care products, even those of a different brand!
TIP: Safely continue this practice by offering hand sanitizer to all customers, regularly disinfecting dispensers and making use of disposable sample packets. You may also consider keeping your samples behind the counter to be brought out as needed, which requires your staff to be actively engaged with browsing customers; keeping them sharp on product knowledge and helping your customers to feel encouraged to shop.
2. Educate & Up-sell
How will your clients know what to buy if they're never made aware of the products and brands you're selling?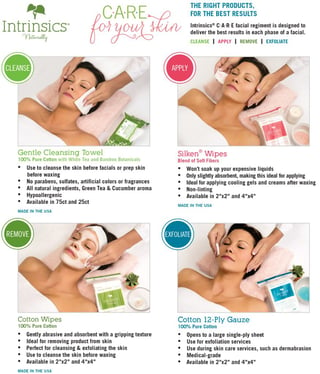 Training your team is the only way they will be able to effectively suggest products to customers without coming across as a salesperson. One easy-to-follow training guide is the Intrinsics C/A/R/E guide. Let your customers know you care about them!
When your therapists, stylists and technicians understand and believe in the products, making recommendations on the specific needs of their clients becomes an organic and unobtrusive process.
TIP: Be sure to train your staff on how to demo products in a safe and sanitary manner. Utilize gloves, hand sanitizer and disposable applicators whenever possible. Don't forget to disinfect after every demo!

3. Get Online
Making your retail products available online adds simplicity to your clients' lives. Instead of having to commute for their favorite products, they can conveniently restock from the comfort of their home. Moreover, research has shown that people want to shop at local businesses, so allowing them the opportunity to support their local spa or salon via an online channel is an easy way to satisfy that desire without sacrificing convenience or personal health and safety.
4. Incentivize!
Online reviews are one of the first things customers look at before committing to a product, and they want them to be transparent and authentic. Offering clients a discount on services or a free product if they write an honest review can make a tremendous difference! While it may seem counterintuitive, make sure your clients know you want to know what they think--regardless if it's positive or negative. Having some negative reviews can lend credibility to your business, especially if you respond to the negative feedback in a positive way. It's a win-win!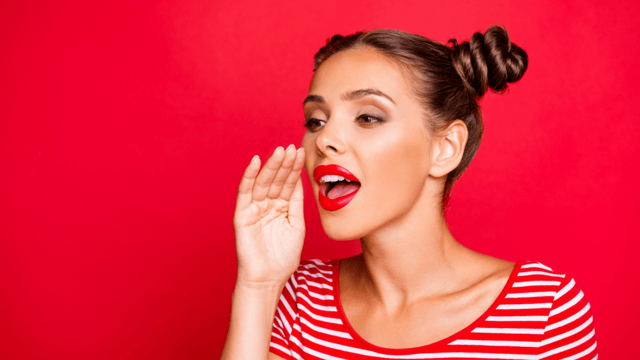 5. Word of Mouth
Even in this digital age, word of mouth is still a completely valid marketing tool. Clients are much more trusting of their friends and family when it comes to product or brand referrals. Offering a referral program with incentives allows for advocates of your spa to share their favorite treatments and products with people they know.
6. Create Personalized Coupons
One of the best feelings in the world is getting coupons for things you actually want to buy. Creating customized coupons based on the actions and purchases of your customers is a great way to show clients that you care about what they want, while also incentivizing retention.

7. Reward Your Sales Team
Unmotivated employees are less likely to sell more than they have to. Try putting a commission strategy in place, or offering rewards like cash or paid time off to incentivize your staff. The sales team is the backbone of your business, making sure that they're appreciated is very important!
8. Keep It Clean & Cute!
First impressions matter. If your retail area is dusty and disorganized, chances are your customers are going to think you don't care about what you're selling and will be turned off from buying from you in the future. Now, more than ever, it's important to assure your guests that your retail area is properly and regularly disinfected and that your displays and samples are structured in a way that takes health and safety into consideration.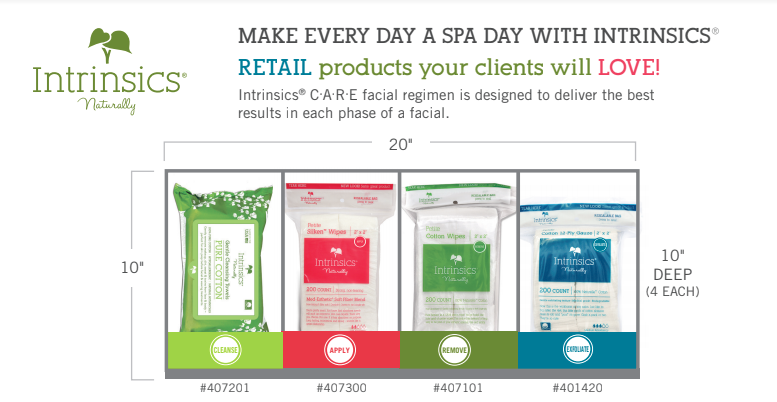 TIP: Check out our new display from Intrinsics!
9. Targeted Marketing
Knowing who you're selling to is extremely important. Every couple of months, take some time to research trends in your geographic area and analyze what your customers are actually buying. Using this data will help you effectively suggest products to specific demographics, and allow you to take a more personalized, professional approach when dealing with clients.
We really hope you enjoyed all of the ways you can potentially boost retail sales in your spa or salon! Will you be implementing any of these methods in your establishment? Let us know on social media!
Information for this blog was obtained from Universal Companies, Bob Phibbs-Retail Doctor and an article in the May issue of Modern Salon.
Topics: Spa, Intrinsics Trend Report, Salon