Skin, lashes, and brows. What more do we need? How about some advice from pros? We took to Instagram to ask some of our favorite professionals for advice about best practices.
Skin with Regina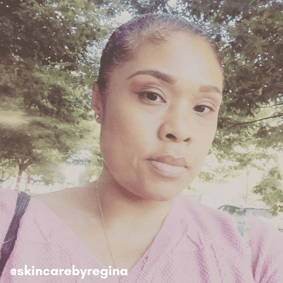 What are your favorite services to offer clients?
"I like doing customized facials, during this time I can chat and break the ice with my new clients and begin building a relationship. Brow waxing is another-I am so enamored with the final transformation and my client's reaction! I have [begun] adding makeup - but mainly to enhance features. It's fun working with clients who 'don't wear makeup' or have never worn a lot, just chatting it up and informing what they can do to bring out their best features with minimal application; when they see themselves they are in awe and are so excited, their attitude changes - that's the best compliment."
How long have you been a skincare professional?
"I have been licensed since 1991 but have been actively working on skin for 5 years."
What are your person go-to products?
"Wow, that's a toss-up, there are so many incredible lines out-I will have to say great moisturizers because I have combination [skin] but with winter, my skin gets super dry, I love Vitamin C and recently added a new product line to my homecare and lip balm!"
Have you ever given/received a HydraFacial?
I've seen and heard a lot about HydraFacials, I've never had one but would love to try!
Lashes with Sophia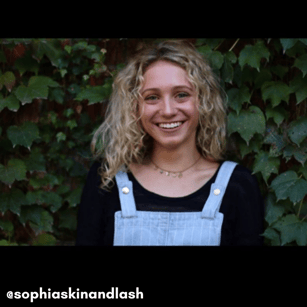 What can a client do to maintain
their lashes?
A client can maintain their lash extensions by washing them daily, keeping them away from heat, coming in for ⅔ week fills, sleeping on their back, avoiding mascara and eyeline, and never tug, twist, or pulling at your lashes.
How often should a client get their lashes done to maintain them regularly?
To maintain your lash lift, you should avoid rubbing your eyes, avoid getting them wet for 24 hours after your appointment, gently brushes your lashes, and removing eye makeup with an oil-free remover.
Every client is different when choosing a 2 or 3 week fill time. If you feel you are losing more lashes and need a fill at 2 weeks, you should schedule your appointments 2 weeks apart (most oily clients come in every 2 weeks). If you still have 55-70% lashes at 2.5 weeks, then you are a client that can come in every 3 weeks. Many clients like their lashes to be 100% full at all times, and may choose to come in for a mini0fill before events or in-between getting their 2 or 3 week fill.
What is your favorite service to provide as an esthetician?
My favorite service to provide as an esthetician is a custom facial.
Waxing with Michelle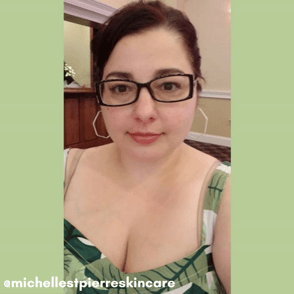 What are some good practices after getting a wax?
Aftercare is mostly for body waxing. As for after-wax care; exfoliate, moisturize, and treat. Exfoliating about 2-3 days regularly after being waxed helps slough off dead skin and should help prevent ingrown hairs. I prefer a loofah, but you can also use a dry brush or scrub as well. Moisturizing after waxing helps soothe and soften the skin. I love Lycon Tea Tree Soothe Lotion and Lycon Soothing Cream. And, of course, I love applying a moisturizer with Intrinsics Silken Wipes. A great product to treat your skin after a Brazilian wax is PFB Vanish Roll-On.
How often should clients get waxed?
It depends on the service. Brows need to be waxed every 2-3 weeks and Brazilian every 3-5 weeks. Both depending on [the] amount of hair growth. Keeping within these guidelines help provide optimum results.
What are your favorite services to provide as an esthetician?
My favorite services are brow services (wax, tint, henna, etc.) and Brazilian waxing.
Topics: Uncategorized, Skin Care