So we're guessing this won't come completely as a surprise: cotton has many green advantages, especially over fiber peers like bamboo and rayon. Ground zero for that fact is in how they're processed. Cotton's Total Chlorine-Free process—think of it as "oxygen bleaching" using hydrogen peroxide—is environmentally friendly, while the process for bamboo and rayon is decidedly not.
For Cotton, It's Easy Being Green
Aside from that critical processing fact, cotton offers a litany of additional green traits: it's all-natural, it's not man-made/synthetic, and it's biodegradable. When it comes to professional spa products, the best supplies are also more durable, meaning they'll last much longer. This leads to using fewer pieces, and slowing down their inevitable journey to that dirty little secret place known as the landfill (ugh). But once there, you can take comfort in the fact that that cotton products will break down, and not still be sitting there when your children's children's children are alive.
Our Top 8 Environmentally Friendly Spa Products
With cotton leading the way, here are a few products that allow spa and salon professionals to go green:
1. Cellulose sponges: Great for cleansing the face or removing products, these sponges are reusable within a treatment, and can be used instead of standard wipes. Another eco-friendly fact is they're made of 23% recycled fiber.
2. Cotton balls: Ah, the ubiquitous cotton ball. It's perfect for make-up removal, as well as applying astringents or toners. This spa workhouse is cotton in its purest form, so it obviously possesses all of cotton's greatest green traits. (And as tradition dictates, whenever we talk about cotton, it's critical we talk about this.)
3. Cotton rounds: Softness and stoutness is what cotton rounds bring to the spa table. These circular wonders not only handle the heavy lifting for standard-issue facial or skin care serves, but they can serve as eye pads, too.
4. Cotton wipes: A fan favorite amongst estheticians, cotton wipes are mildly abrasive, but perfectly absorbent. Ideal for removing product during a facial and after waxing, a 100% cotton wipe also lets you feel good from a green standpoint.
5. Cleansing towels: Another staple, cleansing towels are used to clean clients' faces before a treatment ever takes place. Bonus: many of these towels often feature natural botanicals, which makes them silky-smooth, even for the most sensitive of faces.
6. Thick cotton pad: The king of absorbency, a thick cotton pad can be utilized as a true jack-of-all-trades. It can be used wet or dry, and its stretchability makes it adaptable for a variety of spa and salon services.
7. Gauze wipes: The beauty of gauze isn't just that it's made of cotton. It's typically made of medical-grade cotton. Aside from being safe for dermabrasion and exfoliation treatments, gauze is another utilitarian supply that is found in any reputable spa.
8. Gauze mask: When it's time for high-frequency treatments like paraffin, clay, or mud masks, these pre-cut gauze masks are a true time-saver.
Cotton, A Totally Compostable Spa Solution
In many ways, you could look at this list as some our favorite spa products simply on their own merit. The fact that their cottony goodness leads to a compostable solution—which is even more important when we're dealing with single-use spa supplies—is really just the icing on the cake. Products like these stand the test of time for one reason: because they work. Now you can use them not only because they're effective, but because they're helping to lessen your own personal environmental footprint, too.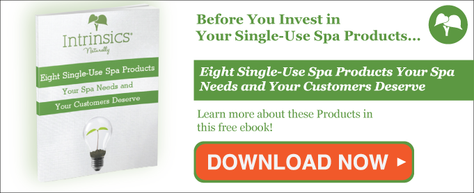 Topics: Spa, spa products, Our Products, eco-friendly